Yes, sadly, "The Happiest Mayor in the Universe," Mayor Oscar Goodman has been term-limited into retirement. But as of tonight, his wife, Carolyn Goodman will take his place! I don't know if that's good or bad, but at least Oscar will continue to be the face of Las Vegas to some extent (even if he never was Mayor of the strip. . .
shhhhh!
). It didn't hurt that Mrs. Goodman's opponent had an unspellable, unpronounceable, missing syllable name.
Giunchigliani?
And it was pronounced Gin-kill-iani. Maybe that was ultimately the problem: Goodman's deal with Bombay Sapphire Gin!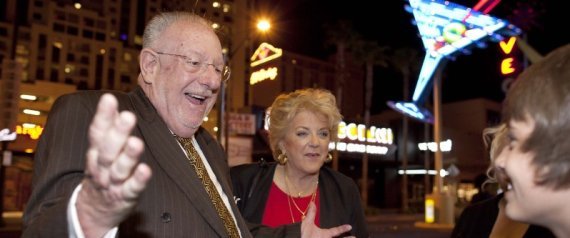 Image from source, Huffington Post
[Excerpt]Las Vegas Election Results: Carolyn Goodman Projected Winner, Chris Giunchigliani Defeated The wife of Las Vegas Mayor Oscar Goodman is taking over his title. . .
Read more at: Huffington Post