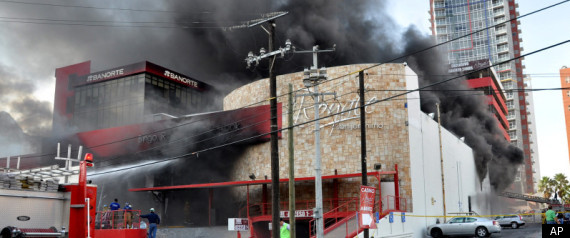 Image from source, Huffington Post
Thankfully, this is not one of my usual
What Happens in Vegas
posts, but that doesn't make it less horrific. Even before September 11, 2001, I wondered about both terrorism and mishaps in the casinos here in Las Vegas. We all know of the big fires at the MGM Grand and Hilton in the 80s, but it's kind of amazing that since then the incidents have been few and far between.
Accidents aside, there's no denying that big attractions like casinos (and amusement parks, and national monuments) are big, giant targets for potential mayhem. No matter how stringent they get at the airport (here's my shoes, my belt, my watch, my wallet, my Chapstick you sonovabitch!), what's gonna stop a crazy zealot from walking into a casino with a bazooka? I'm glad it hasn't happened here, but I'm also amazed that it hasn't.
[Excerpt]
Casino Royale Attack Leaves At Least 40 Dead In Northern Mexico
Two dozen gunmen burst into a casino in northern Mexico on Thursday, doused it with gasoline and started a fire that trapped gamblers inside, killing 40 people and injuring a dozen more, authorities said. . .
Read more at: Huffington Post