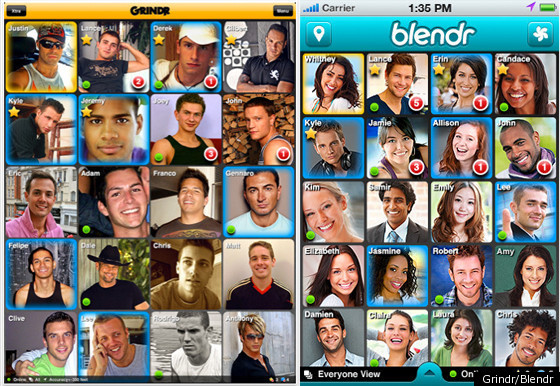 One of the
unfortunate
sad
interesting
things about having been with the same man for 13 years, is that I missed out on all but the earliest forms of technological dating. When I met The Other Half, AOL was chief way to "hook up" with the assistance of technology. The internet was not very widespread yet. And smart phones were science fiction.
So, I have no first-hand knowledge of the very, very successful iPhone (and Android) app, Grindr. Grindr lets gay men know how far away other (interested) gay men are, what they look like, and lots of other pertinent information. Since gay men aren't always obvious (and gaydar doesn't always work), Grindr eliminates the guessing games. I have no idea if I'd have had the nerve to use this back when I was single, but I did have that one slutty week back in '98. . .
Anyway, the creator of Grindr has come up with a version for the straight world, called Blendr. We know that most guys are capable of being sluts. But will the ladies sign up, or will it just be a sausage fest?
[Excerpt]
Grindr Creator Launches Blendr: Will Women Use A Random Hookup App?
Grindr, the wildly successful, male-only location-based hookup facilitator for gay, bisexual and gay-curious men, has registered 2 million users in two years. Now, the creator of Grindr has launched a new app Blendr that replicates Grindr's template, with one key twist: it allows women to register, too. . .
Read more at: Huffington Post