¡Ay, caramba! We came
thisclose
to losing
The Simpsons
forever. But a deal has been reached, and the show will get to complete--at least--its 25th season!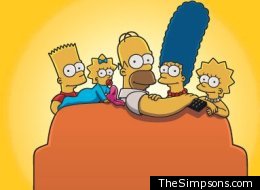 Image from source, HuffPo
[Excerpt]
'The Simpsons' Renewed For Two Seasons: Cast, Producers Strike Deal
"The Simpsons" will live on, after all.

On the verge of cancellation after producer 20th Century Fox TV demanded that the voice cast of the seminal animated series take a 45% pay cut, the producers and talent came to a last minute agreement on Friday that will extend the show for two more seasons. It was thought that the show would last only one more season after this, its 23rd, even if an agreement was reached, but the groundbreaking series will reach a record-setting 25 years on television. . .
Read more at: Huffington Post