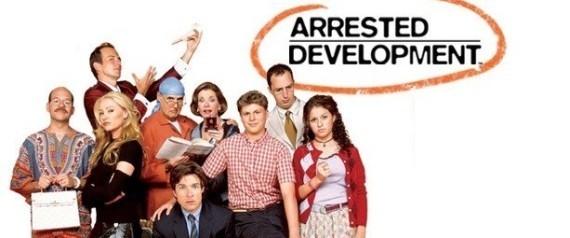 Image from source, Huffington Post
Seriously, I
totally
can't wait! If you never watched
Arrested Development
in its original (too short) run on FOX TV, get thee to Netflix.com or RedBox, and start watching!
AD
is one of the best sitcoms of all time, and as such, was under-appreciated. It starred Jason Bateman as "the good son" in a family full of misfits, con-artists and other assorted layabouts. With Ron Howard, Portia de Rossi, Henry Winkler, Michael Cera, Will Arnett, Jeffrey Tambor and Jessica Walter, it was a dream cast, matched only by the offbeat writing. Hopefully, the too-small-for-TV audience will be big enough for the movies.
[Excerpt]
'Arrested Development' Movie Happening, Being Written: Jeffrey Tambor
Before the question was even asked, Jeffrey Tambor had the answer ready, on command after years of inquiry. Yes, the "Arrested Development" movie is going to be made. . .
Read more at: Huffington Post