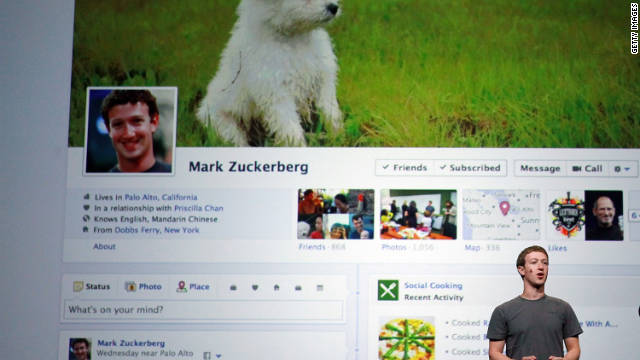 Image from source, CNN
Of all the social media platforms, Facebook is the only one I feel I "get." LinkedIn is really new to me, but I understand that it's sort of a business Facebook. Twitter gets me excited when there is a live event like a debate or the Emmys. It's fun to read the real-time comments. But most of the time, I don't know what to do with Twitter. I apparently still have an account at MySpace, but I never figured out what to do with it, and now it is kind of pointless.
I'm actually amazed how many people get flustered or confused about Facebook. I think it's ridiculously easy to grasp. And every time they've made a change to the interface, the users have screamed bloody murder. Then they get used to it, and it becomes the new normal. But now, the Facebook users are about to be greeted by a radically different interface. And they're going to crap themselves over this one. Until they get used to it.
My viewpoint is, change is good. If it isn't good, it will revert, or become something else. If it doesn't change, one day it will look as ugly and dated as Prodigy, The Drudge Report and Free Republic.
[Excerpt]
You'll freak when you see the new Facebook
Facebook users, mark my words: You'll revolt when the site rolls out its new features in the coming weeks.
Facebook is about to completely change the way its profile pages look as part of the website's biggest redesign so far, and only a fraction of the website's 800 million users seem to have the slightest clue. . .
Read more at: CNN